Please click on the power point cover below to look over our presentation online and learn about Disorders of Sex Development (DSD)* and how you can lend a helping hand.
You are also welcome to download the PowerPoint presentation–which can either contain clickable links or not–and print and distribute yourself, but you may not sell them. If you run a website whose visitors are interested in these documents, please link them to this page. You may not copy the actual PDF file to your own public website.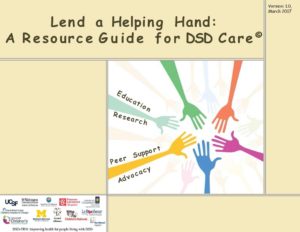 Lend a Helping Hand: a Resource Guide for DSD Care
(with clickable links)
(without clickable links)

If you would like to make a comment or a suggestion, please contact us.
*Historic document titles and clinical reference remains disorders of sex development